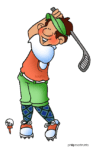 A man takes a week off work and decides to play a round of golf every day.
First thing Monday morning, he sets off and soon finds himself catching up with a stunning woman playing in front of him.  He suggests that they play against each other for the rest of the day and she agrees.
The woman proves to be very talented, and wins on the last hole.
Afterwards, she accepts the man's offer of a lift home and, on the way, admits she hasn't enjoyed herself so much for a long time.
"In fact," she says, "Why don't you pull over so I can show you how much I appreciate it?"
So the man pulls over and, to his delight, the woman performs oral sex on him.
They arrange to play golf again the next morning.
Once again the woman wins, and she shows her appreciation in the same way on the journey home.
This goes on all week, until Friday, when the man reveals he has booked dinner at a restaurant and a night of passion in a hotel.
On the way there, the woman suddenly bursts into tears. "I can't do it," she says, "You see, I'm a transvestite."
The man is aghast.
He swerves violently off the road, and pulls the car to a screeching halt. "You fucking deceived me!" he screams.
"You've been playing off the ladies' tees all week."